Food for The Woman of The XXI Century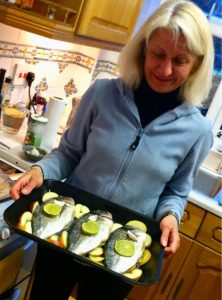 In my life I have been fortunate enough to travel in many countries and continents and I always enjoyed the varied food every place had to offer.
I got inspired by it, besides being fed.
When I was in my 20's I came across
macrobiotics
, its cuisine and way of life and that laid the foundations for my future interests and way of eating.
Even if I am fascinated by the most exotic ingredients and ways of cooking, I cook in a simple way and with fresh ingredients.
I try to get organic vegetables from local markets whenever possible and cook according to the season and my needs of the moment, I also consider in which 'inner season' I am in my female cycle.
For me cooking is a meditation, a sacred time when I create something new that will become part of myself: body and spirit.
I do believe that there is a reason why certain vegetables and fruits grow only in certain regions of the world and in certain seasons, therefore I do my best to follow my biggest guide of all time: Nature!
In my recipes you won't find refined sugars, dairies or any additive which is not of a natural source.  My recipes tend to be simple, but are very tasty and quick to make!
Within the years I wrote down only my best recipes and the ones that I liked the most and am now sharing some with you, so that you can benefit too from my knowledge and creativity to produce food that nourishes your body, mind and soul.
As humans we don't just eat to feed our bodies, we eat for many different reasons …
Sometimes women can become victims of their food, rather than see this daily act as a ritual to increase their beauty, feed their spirit and nurture their emotional and physical body.
I can understand that if one has to cook every day and for a big family, it can become a chore rather than a pleasure.
That's why I am sharing here only simple recipes that anybody can cook, men and women, and in a short time so that you can use the extra time to enjoy the food in peace and quiet, this is very important too!
I agree with Hippocrates "Let food be thy medicine and medicine be thy food".
I would like to invite you to be adventurous and try something new and, if you like it, I would love to read your comments.
Happy cooking!